The Houston Astros and Oakland A's engaged in a bench-clearing brawl, with both teams breaking social distancing protocols to throw punches
After an Astros pitcher beamed Oakland A's Ramón Laureano with a pitch to the back, Laureano jawed off with Houston's team and charged the dugout. Stan Szeto-USA TODAY Sports
The Houston Astros and Oakland A's engaged in a bench-clearing brawl during their matchup on Sunday.
After Astros pitcher Humberto Castellanos beamed Oakland's Ramón Laureano with a pitch to the back, Laureano jawed off with Houston's team and charged the dugout.
Both sides' benches cleared, with players, coaches, and staffers exchanging blows and disregarding social-distancing protocols.
Visit Insider's homepage for more stories.
Beef between the Houston Astros and Oakland A's boiled over during Sunday's matchup.
A bench-clearing brawl ensued after Astros pitcher Humberto Castellanos beamed Oakland's Ramón Laureano with a pitch to the back in the bottom of the 7th inning. The A's commanded a 6-2 lead when Laureano stepped to the plate, and Castellanos was just nine pitches into his stint on the mound.
According to video replays of the altercation, Laureano jawed off with members of Houston's team as he made his way to first base. The exchange quickly grew heated, with the outfielder making the first move by charging his opponent's dugout.
Laureano ran at full speed into a group of Astros who had stepped out of the dugout. Members of the Houston side tackled him to the ground as he prepared to swing. Shortly thereafter, both squads' benches spilled onto the field to insert themselves into the scrum, clearly forsaking social distancing protocols in order to throw punches.
Check out a replay of the fight below:
Laureano wasn't happy with the Astros after he got hit by a pitch pic.twitter.com/ysiXICstKb

— A's on NBCS (@NBCSAthletics) August 9, 2020
Here's another angle that shows how the altercation unfolded:
Laureano charges the Astros dugout and the brawl breaks out pic.twitter.com/CQ2K8kFnlb

— A's on NBCS (@NBCSAthletics) August 9, 2020
Home plate umpire Ted Barrett ejected Laureano from the game after an Oakland coach dragged him out of the crowd, according to ESPN. Given that Oakland Coliseum was not open to fans in light of the COVID-19 pandemic, officials assigned to the game could be heard clearly shouting "get back to the dugout!" on the broadcast.
Even without Laureano, the A's managed to hold on for the 7-2 victory.
It's not the first time the Astros have been involved in squabbles this season. Houston has been under intense scrutiny ever since details of the team's elaborate sign-stealing scheme came to light last year. Given that Oakland pitcher Mike Fiers was the first to draw attention to the Astros' plan to alert their batters when off-speed pitches were on the way, it's no surprise there was animosity between the two teams.
WORLD'S RICHEST CELEBRITIES REVEALED! HOW MUCH YOUR FAVORITE CELEBRITIES REALLY WORTH WILL SURPRISE YOU
TOM CRUISE – $570 MILLION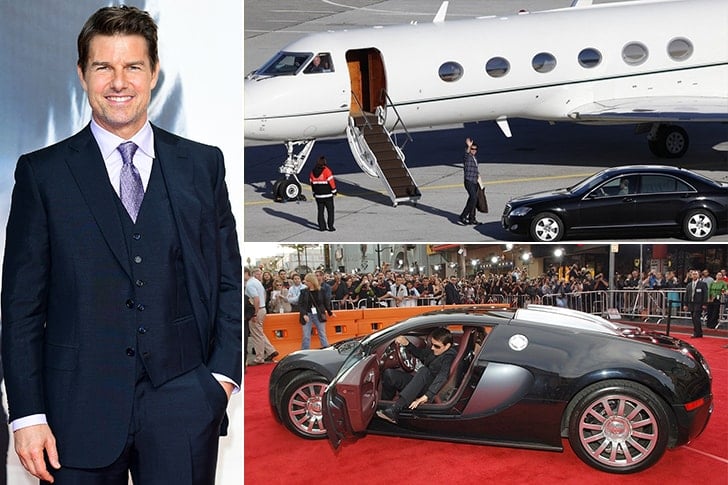 Our list wouldn't be complete without one of the most famous Hollywood A-listers, Tom Cruise. This guy owns a record-breaking net worth of $570 million, which makes him a perfect fit for just any list of rich celebs. Everything started back in the '80s when Cruise landed roles in two hugely successful movies – Risky Business and Top Gun. In no time, it became clear that he would be in Hollywood to stay, making appearances in some of the biggest blockbusters ever since. Whether the actor prefers investing his money in houses or in his retirement planning we can't say for sure, but with such financial strength, we are confident that he can do both.
TAKE A LOOK INSIDE THE HOUSES & MANSIONS OF YOUR FAVORITE CELEBRITIES
SIDNEY CROSBY – PRICE UNKNOWN, NOVA SCOTIA, CANADA
Currently playing for the Pittsburgh Penguins, Sidney Crosby has gone above and beyond most people with his ultimate dedication for his hockey career. He's one of the best hockey players around which can be proven by the fact that even Mark Madden, famed sports reporter, said that he wouldn't let his team lose to the Islanders in the upcoming match.
His massive salary of $10 million per year more than justifies the reason behind the purchase of his amazing house in Nova Scotia, Canada. Although the house could have been far more luxurious, Sidney prefers the simple life and hasn't gone out of his way to be extravagant. We're pretty happy that he's saving up on his money since he's making a great investment in his own future as well as that of his children and family.
Celebrities with Famous Parents who Were Forgotten
Liv Tyler
Famous for his lead singer position in Aerosmith, Steven Tyler is one of the most celebrated artists in the music industry whose contribution to music will live for long. Liv, his daughter with the renowned model Bebe Buell has also earned a reputation for herself in the entertainment industry. She kick-started her modelling career at the age of 14 and one year afterwards, she ventured into the acting scene. With the success she has had in acting, she definitely made the right decision to follow in her parents' footsteps. Liv Tyler is a UN Children's Fund UNICEF Goodwill Ambassador and serves several other roles. Live is also a family woman who is married with three children.