Kanye West shared a new Yeezy shoe design, and some are comparing it to spaghetti noodles and fish skeletons
Kanye West shared a new shoe design via Twitter on Saturday, calling it the "YZY D Rose."
The abstract-looking shoes sparked confusion among users, as it's not immediately clear what kind of textures the shoes have or how they're worn.
Some users compared the shoes to a fish skeleton, sliced potatoes on a skewer, or a pile of spaghetti noodles.
West is known for making unique style statements through the Yeezy brand, a line of shoes in collaboration with Adidas.
Visit Insider's homepage for more stories.
Kanye West's Yeezy line of sneakers, a collaboration with Adidas, is known for its eclectic, minimalistic, and oftentimes futuristic-looking styles.
The rapper's latest shoe design, however, seems to be leaving people especially baffled.
On Saturday, West tweeted a picture of a pair of abstract white shoes, writing: "YZY D Rose coming soon."
YZY D Rose coming soon 🕊 pic.twitter.com/SqHdj4SUrg

— ye (@kanyewest) August 9, 2020
Since West shared the picture of the new shoes, fans have been speculating over how they're actually worn. Some are also comparing the design to food items — from thinly sliced potatoes on skewers to spaghetti noodles.
"They look like spaghetti shoes," one Twitter user wrote.
Some commenters also compared the shoes to a fish skeleton, among an assortment of other objects.
At the time of writing, neither the Yeezy Supply website nor the Adidas website has published launch information for the shoes West shared on Saturday.
Representatives for the Yeezy brand did not immediately respond to Insider's request for comment regarding the potential launch date or price range of the YZY D Rose.
In the past, other renditions of Yeezy shoes have sparked confusion among West's fans, critics, and followers on social media.
In September 2019, Yeezy launched the "foam runner," a slip-on clog that led to an onslaught of memes as people compared it to a more expensive version of Crocs or a bicycle helmet.
Kanye really made Yeezy crocs. The Yocs. https://t.co/SALn9xRLOP pic.twitter.com/liAS2nfqt8

— joe (@JoeJoeColes) September 12, 2019
West also previously launched a collection of grooved foam and rubber "slides" for adults and children, which Kim Kardashian West described as being "rubbery and so comfy." The slide-on shoes were also met with criticism, with one Twitter user comparing them to "jail sandals."
WORLD'S RICHEST CELEBRITIES REVEALED! HOW MUCH YOUR FAVORITE CELEBRITIES REALLY WORTH WILL SURPRISE YOU
TOM CRUISE – $570 MILLION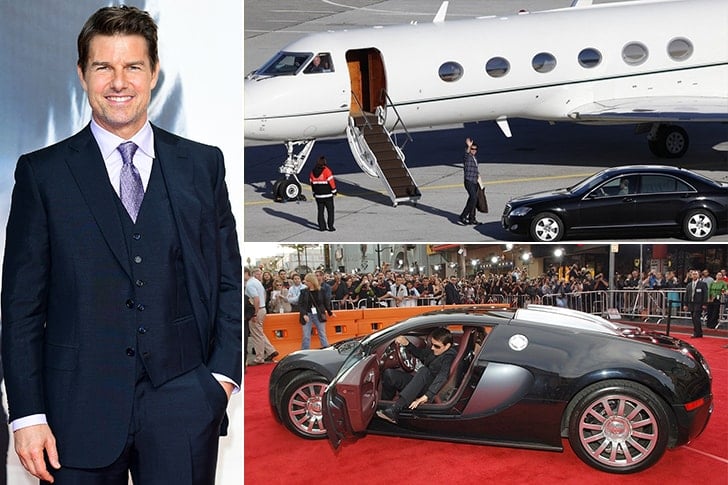 Our list wouldn't be complete without one of the most famous Hollywood A-listers, Tom Cruise. This guy owns a record-breaking net worth of $570 million, which makes him a perfect fit for just any list of rich celebs. Everything started back in the '80s when Cruise landed roles in two hugely successful movies – Risky Business and Top Gun. In no time, it became clear that he would be in Hollywood to stay, making appearances in some of the biggest blockbusters ever since. Whether the actor prefers investing his money in houses or in his retirement planning we can't say for sure, but with such financial strength, we are confident that he can do both.
TAKE A LOOK INSIDE THE HOUSES & MANSIONS OF YOUR FAVORITE CELEBRITIES
SIDNEY CROSBY – PRICE UNKNOWN, NOVA SCOTIA, CANADA
Currently playing for the Pittsburgh Penguins, Sidney Crosby has gone above and beyond most people with his ultimate dedication for his hockey career. He's one of the best hockey players around which can be proven by the fact that even Mark Madden, famed sports reporter, said that he wouldn't let his team lose to the Islanders in the upcoming match.
His massive salary of $10 million per year more than justifies the reason behind the purchase of his amazing house in Nova Scotia, Canada. Although the house could have been far more luxurious, Sidney prefers the simple life and hasn't gone out of his way to be extravagant. We're pretty happy that he's saving up on his money since he's making a great investment in his own future as well as that of his children and family.
Celebrities with Famous Parents who Were Forgotten
Liv Tyler
Famous for his lead singer position in Aerosmith, Steven Tyler is one of the most celebrated artists in the music industry whose contribution to music will live for long. Liv, his daughter with the renowned model Bebe Buell has also earned a reputation for herself in the entertainment industry. She kick-started her modelling career at the age of 14 and one year afterwards, she ventured into the acting scene. With the success she has had in acting, she definitely made the right decision to follow in her parents' footsteps. Liv Tyler is a UN Children's Fund UNICEF Goodwill Ambassador and serves several other roles. Live is also a family woman who is married with three children.